NOVEMBER 2022 UPDATE: Biden administration to make it easier to discharge student debt in bankruptcy. Click HERE for more information
You may have heard that student loans cannot be discharged in bankruptcy. That statement oversimplifies the truth. You actually can get student loans discharged in some cases, but the bar is higher, and the process is more burdensome than it is for other types of debt.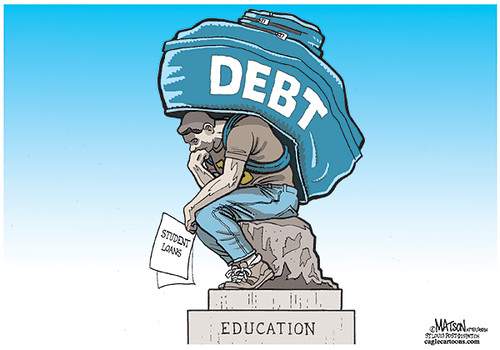 When someone files for bankruptcy, the bankruptcy court may eliminate debts by "discharging" them. Debts that are non-dischargeable are those that generally cannot be eliminated through a bankruptcy filing and will need to be paid.

For cases filed after October 17, 2005, and under current law, both federal and private student loans are not dischargeable in bankruptcy unless you can show that your loan payment imposes an "undue hardship" on you, your family, and your dependents.

Historically, it has been very difficult to meet the requirements of "undue hardship." Courts have generally disfavored discharge of student loans. In order to have a student loan discharged on undue hardship grounds, you must file a separate proceeding with the bankruptcy court and then appear before the judge to explain your hardship.
Generally, you must show that:
you cannot maintain a minimal standard of living for yourself and your dependents if forced to repay the loans
circumstances exist showing that the conditions that make repayment a hardship are unlikely to improve substantially during the repayment period; and
you made good faith effort to repay the loans through making past payments or arranging for forbearances.
Adversary Proceeding
As stated earlier, just filing for bankruptcy under either Chapter 7 or Chapter 13 is not enough to have your student loans discharged. You must take the additional step of filing an adversary proceeding.
Under the U.S. bankruptcy code, an adversary proceeding is "a proceeding to determine the dischargeability of a debt." In other words, it's a lawsuit within a bankruptcy case. Included in the adversary proceeding paperwork is "a complaint." The complaint includes administrative details, such as your bankruptcy case number, along with the reasons you are seeking to discharge your student loans in bankruptcy—the circumstances of your undue hardship.
This additional step is necessary because student loans and a few other types of debt have stricter requirements for discharge than credit card debt, for example. These requirements are described in section 523(a)(8) of the U.S. bankruptcy code. The key wording that relates to the discharge of student loans is: "A discharge under…this title does not discharge an individual debtor from any debt…unless excepting such debt from discharge under this paragraph would impose an undue hardship on the debtor and the debtor's dependents." Note the words "undue hardship," which is discussed below.
Going through the bankruptcy process doesn't guarantee a specific result. Judges will also rely on the outcomes of previous cases that may be similar to yours. That means the court may or may not rule to discharge your student loans. The outcome of your case will also depend on how your student loan creditors handle it—whether they agree that you're facing undue hardship and whether it's worth their money to go to court.
Contact Michael for more Information
Navigating student loans in bankruptcy is a complex process. Contact Michael today by calling 502-451-3030 or by sending an email for a free consultation to discuss your specific case and answer your questions.