When it comes to making a decision as to Debt Settlement or Bankruptcy, you should carefully consider the benefits and consequences of both options.  Neither decision should be made lightly and they both have repercussions.
As a bankruptcy practitioner, I meet with lots of people who have tried debt consolidation using debt settlement companies and have paid large fees to these companies to 'negotiate' a debt settlement.  Often times they tell me that the settlement company has terrible customer service and poor communication. Often, a debt settlement company can do little to actually resolve the debt, especially if the debtor has limited cash resources.  In bankruptcy, the creditors are forced to follow the federal protections afforded to the debtor and have to agree on how much money they get (if any).
Unfortunately, when debt settlement plans do no work, the debtor is not only out a large fee, but he or she may have judgments, pending garnishments or foreclosures and other problems that would never have happened if the debtor had been steered to bankruptcy in first place.  Bankruptcy can, on the other hand, deal with debt problems such as judgments, liens, foreclosures and garnishments.
While bankruptcy is not the solution for everyone, it is important to look at all your options closely before you decide how are you going to resolve your debt problems.  There are several key areas which should be evaluated: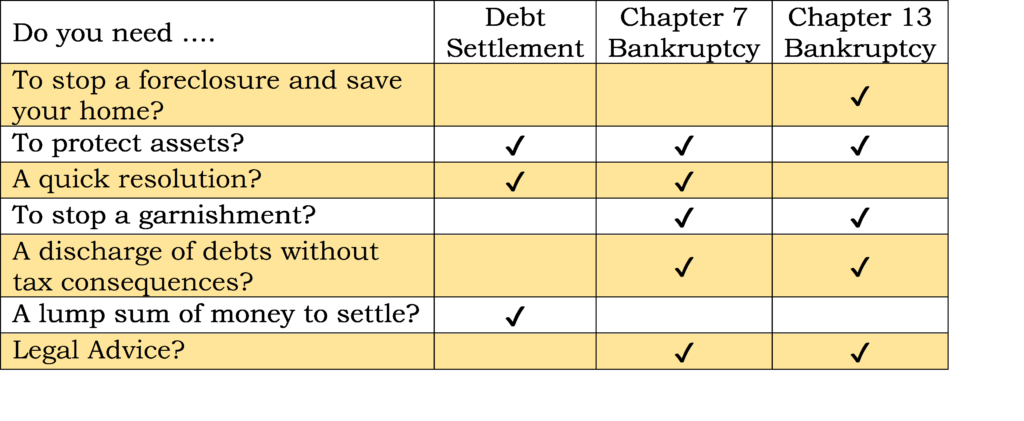 Please know that the above chart is not something that can explain the nuances like speaking with an attorney can.  At the end of the day, deciding whether or not to file bankruptcy or pursue debt settlement will be based on the individual facts of each client.
Call Michael Marks at Wetterer & Clare for a free consultation and discuss all your debt resolution options with an experienced attorney.